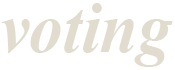 Vote for

two lesser quality

icons.
Include reasons as to why you find the icons to be of lesser quality.
Vote for your

one favorite

icon, you do not need to specify a reason.
Voting ends

Monday, September 8th!
Voting example:
LEAST QUALITY:
#100: The text is oddly placed.
#200: The icon is oversharpened.
FAVORITE:
#300: Reason is not required although you may still leave one.
DISQUALIFIED:
imaginary_lives
SKIPPING
immortalje
robyriker
lenyia
_wanderingchild
shoqolad
fame_n_glitter
i_gota_rock
beeej